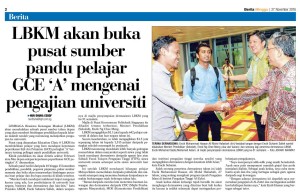 At this year's bursary award ceremony, LBKM proudly presented a Career Chat: Owning Your Journey which shared the experiences of some young Muslim professionals. What was it like transitioning from school to the workplace? How did you choose your career? How important is passion in your work? All this and more were answered!
If you have any burning questions you'd like to ask ahead of time, feel free to email us at youth@lbkm.org.sg with your full name, age, school, and question. We'll be more than happy to answer you.
Congratulations once again to all our recipients.
LBKM will launch Education Clinic @ LBKM during the release of the GCE A level result in Feb/Mar next year. The clinic will provide advice and counselling to students/parents on the choice of universities, choice of courses, available bursaries and scholarships, costs of overseas studies etc.
Look out for more details soon.