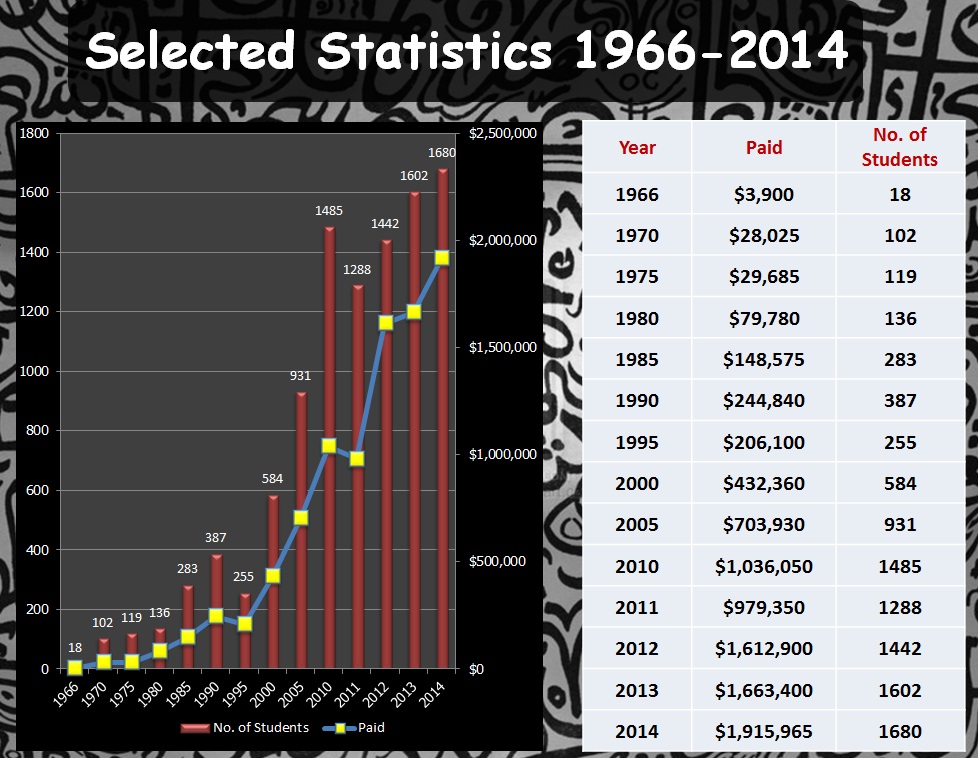 LBKM bursaries have been awarded to students ranging from primary to postgraduate level of studies since 1966; for both the religious and secular streams.
As of 2013, over $15 million worth of bursaries and study grants have been disbursed to more than 20 000 students. A table reflecting the quantum of the bursaries disbursed and their beneficiaries is set out below.
In 2010, LBKM introduced the Prestigious Scholarship for undergraduate and postgraduate students, studying at the prestigious overseas universities. To date, 5 undergraduate and 7 postgraduate students have been awarded the scholarship.
In 2011, LBKM introduced the Lee Kuan Yew School of Public Policy Scholarship which is awarded to a Malay/Muslim student recommended by the School.
Year
Secular
Religious
Total no of successful students
Total amount of bursary disbursed
No of successful students
Amount of bursary
No of successful students
Amount of bursary
1966
18
$5,100
–
–
18
$5,100
1967
42
$12,075
–
–
42
$12,075
1968
69
$17,586
14
$2,800
83
$20,386
1969
77
$21,600
7
$1,400
84
$23,000
1970
99
$27,725
3
$300
102
$28,025
1971
86
$20,525
–
–
86
$20,525
1972
49
$16,050
–
–
49
$16,050
1973
75
$29,685
–
–
75
$29,685
1974
43
$20,025
–
–
43
$20,025
1975
119
$29,685
–
–
119
$29,685
1976
51
$20,000
–
–
51
$20,000
1977
50
$21,100
–
–
50
$21,100
1978
66
$32,100
–
–
66
$32,100
1979
83
$46,200
–
–
83
$46,200
1980
136
$79,780
–
–
136
$79,780
1981
140
$81,375
–
–
140
$81,375
1982
146
$87,478
–
–
146
$87,478
1983
191
$102,550
9
$7,500
200
$110,050
1984
217
$132,195
8
$5,000
225
$137,195
1985
283
$148,575
–
–
283
$148,575
1986
417
$184,150
–
–
417
$184,150
1987
495
$290,000
–
–
495
$290,000
1988
430
$265,875
–
–
430
$265,875
1989
407
$239,350
–
–
407
$239,350
1990
387
$244,840
–
–
387
$244,840
1991
313
$263,300
–
–
313
$263,300
1992
303
$243,675
–
–
303
$243,675
1993
373
$266,225
–
–
373
$266,225
1994
263
$244,025
26
$30,600
289
$274,625
1995
234
$199,100
21
$7,000
255
$206,100
1996
324
$290,075
25
$30,900
349
$320,975
1997
395
$325,200
69
$49,380
464
$374,580
1998
323
$254,200
108
$61,280
431
$315,480
1999
387
$270,840
110
$70,938
497
$341,778
2000
417
$327,660
167
$104,700
584
$432,360
2001
503
$381,040
193
$112,796
696
$493,836
2002
623
$393,340
195
$113,266
818
$506,606
2003
606
$419,900
206
$103,060
812
$522,960
2004
533
$436,328
221
$109,780
754
$546,108
2005
666
$535,630
265
$168,300
931
$703,930
2006
541
$487,750
299
$218,000
840
$705,750
2007
861
$565,850
326
$222,700
1187
$788,550
2008
847
$657,900
383
$282,700
1230
$940,600
2009
1012
$639,600
593
$332,450
1605
$972,050
2010
950
$643,000
535
$393,050
1485
$1,036,050
2011
647
$540,700
632
$437,600
1279
$978,300
2012
947
$1,058,800
495
$554,100
1442
$1,612,900
2013
1028
$1,036,800
574
$626,660
1602
$1,663,400
2014
910
$1,123,360
793
$820,205
1703
$1,943,565
Total
18,182
$13,779,922
6236
$4,849,465
24,459
$18,646,327