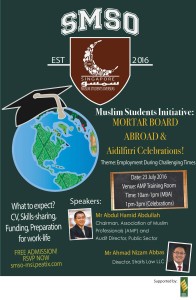 Wonder how an higher education could be an asset to increase your chances of attaining jobs during challenging times? Thinking of studying overseas? Locally? Wonder what options you have for the industry field you're interested in?
SMSO MSI Mortar Board Abroad is the event that will answer all your burning questions. Our own SMSO representatives have studied in countries, such as the UK and Australia as well as Local Universities, and we'll be around to introduce you to study and funding options locally and abroad!
Chairman of AMP, Mr Hamid Abdullah and Director of Straits LLC, Mr Nizam Abbas will be joining us as guest speakers too!
The event will be held on 23 July 2016, and we're combining it with Aidilfitri celebrations!
To register and find out more, simply click here
It's free! Invite your parents, friends and whoever you think would be interested.
See you there! Spread the word.